How to get there - infrastructure
The region of Northern Norway, which is comprised of the two northernmost counties in the country - Nordland and Troms/Finnmark - covers about 35% (approximately 112,951 km²) of Norway's mainland. The archipelago of Svalbard adds another 61,022 km²of territory.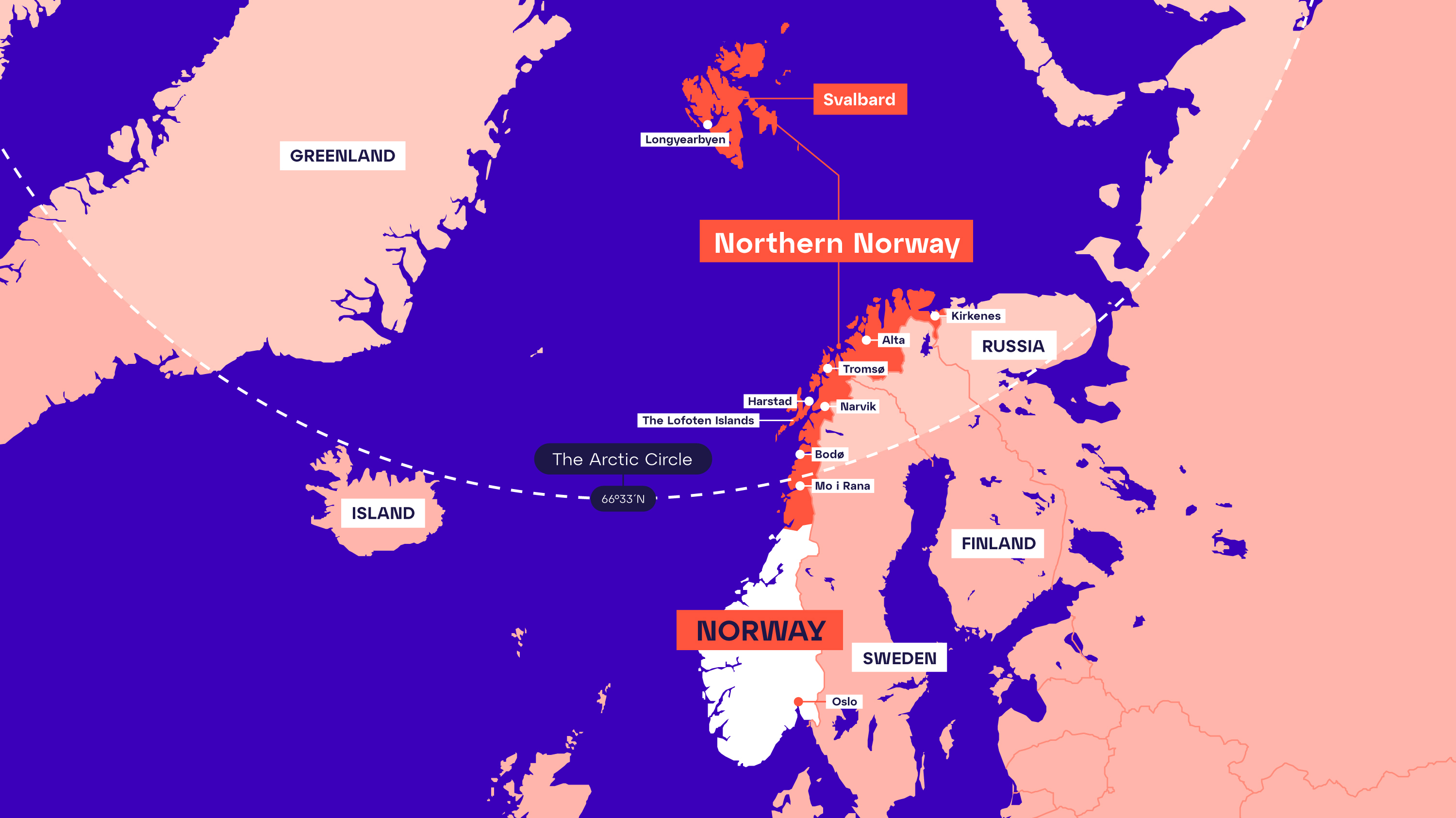 Although Northern Norway is a vast territory of spectacular, and to a large extent, untouched wilderness, the infrastructure is well-developed. A variety of extraordinary locations are easily accessible by plane, car, boat, and in Nordland county, also by train. In Northern Norway, cities, towns and villages are scattered across a large geographical area, but at the same time people live very comfortably from the 65th parallel all the way to the 71st parallel north, and on Svalbard, at the 79th parallel north. This is unique compared to the rest of the world at these far northern latitudes, particularly regarding population size, extent of infrastructure and relatively temperate climate.
Cities
The two largest cities in Northern Norway are Tromsø and Bodø. Among the largest towns are Mo i Rana, Narvik, Harstad, and Alta. The main town on Svalbard is Longyearbyen. The total population in Northern Norway is close to 500,000 people, and as of 2020 there were almost 3,000 people living on Svalbard.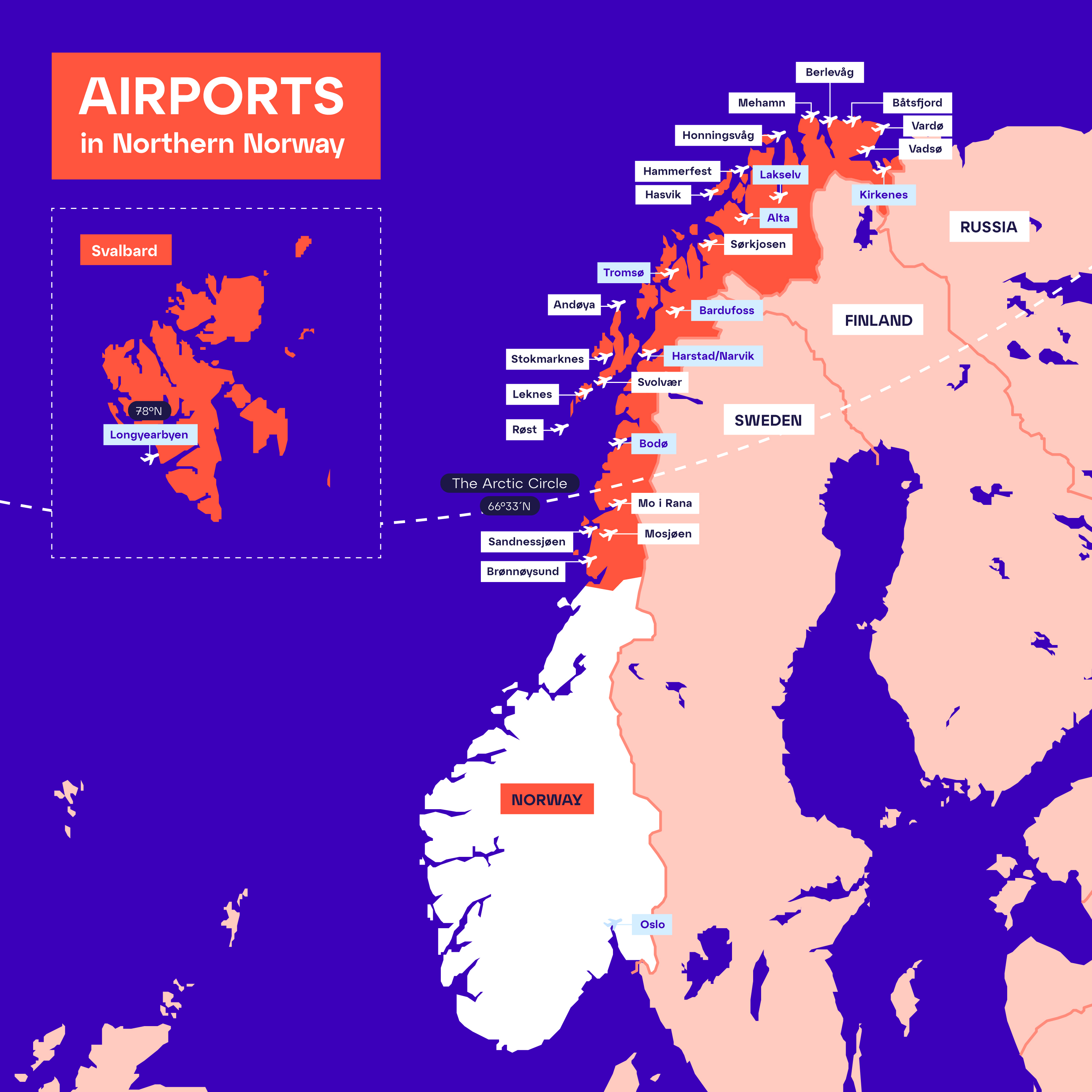 Airports
International airports
There are 8 international airports in Northern Norway, including Svalbard. Bodø Airport in Nordland county and Tromsø Airport in Troms/Finnmark county are regional hubs with direct and frequent flights (1.5 -2 hrs) to/from Oslo, as well as connecting routes to other major cities in Southern Norway. Tromsø Airport also has direct flights to Svalbard (Longyearbyen) and direct connections to some destinations in the Nordic countries and other European countries. Alta Airport and Kirkenes Airport have direct flights to/from Oslo, as do Bardufoss Airport and Harstad/Narvik Airport. Lakselv Airport has seasonal direct connections to Finland (Ivalo).
Short-haul airports
There is also a broad network of short-haul airports (18 in total), providing domestic routes within Northern Norway and connecting routes to Southern Norway, mainly through the regional hubs.
Short-haul airports in Nordland county: Brønnøysund, Mosjøen, Sandessjøen, Mo i Rana, Røst, Leknes, Svolvær, Andøya, Stokmarknes
Short-haul airports in Troms and Finnmark county: Sørkjosen, Hasvik, Hammerfest, Honningsvåg, Mehamn, Berlevåg, Båtsfjord, Vardø, Vadsø.
There is also a commercial helicopter route from Bodø to the island of Vaeroy , situated south of the Lofoten Islands.
Boats and ferries
Along the coast in Northern Norway, regular speed-boat and ferry routes connect the communities on the islands with the mainland, offering short cuts across the many fjords.

Roads
An extensive network of roads, both along the coast and inland in the country, makes travelling in Northern Norway easy, despite the long distances. However, driving in the wintertime can be challenging due to icy roads and a harsh climate, which occasionally causes road closures, especially in mountainous areas. Winter tires are mandatory, along with extra warm clothing, extra food and warm beverages.
You can find more information here.
Trains
In Northern Norway, trains are an option for transport only in Nordland county. There are two railway lines: The Nordland Line, travelling between Bodø and Trondheim, crossing the mountain pass of Saltfjellet. It is the longest railway line in Norway; 729 km, yet not electrified. There is also the Narvik - Kiruna Line, running between the historic Northern Norwegian coastal town and harbour of Narvik, in particular known from WWII (The Battle of Narvik), and the iron ore mining town of Kiruna in Northern Sweden. From Kiruna there are train connections to Stockholm, the capital of Sweden.
Buses
There is also a network of regional, inter-regional, and international buses for travelling to and within Northern Norway.
Please get in touch (LINKE TIL: Northern Norway Film Commission) for further guidance on travel planning as well as connections to our network of local specialists: location coordinators, fixers and film-friendly service partners.
Info on Visa
Norway is a member of Schengen and the European Economic Area. Norway has VISA exemption agreements with all EU/EEA countries, as well as 65 countries outside of the EU, including the United States. You do not need a visa to come to Norway for shoots under 90 days if you are being paid by a non-Norwegian company and from a VISA free country.
Visit the Norwegian Directorate of Immigration for further information and for a complete list of VISA-exempt countries.
Language
The official languages in Norway are Norwegian and Sámi, the latter of which is spoken primarily by the indigenous Sámi people.
Most Norwegians speak English very well, and many Norwegians speak a second foreign language, such as German, French or Spanish. In Northern Norway in particular, both Finnish and Russian are frequently understood and spoken in the local communities. In general, Norwegians can also understand Swedish and Danish.
Exchange rate
1 NOK =
| | |
| --- | --- |
| United States Dollar | 0.113 |
| Euro | 0.094 |
| British Pound | 0.086 |
| Chinese Yuan | 0.742 |
| Indian Rupee | 8.362 |